Reprinted from Danielpipes.org

Daniel Pipes will be speaking for CISA on the contemporary Middle East at the Berney Theatre on Monday, March 21, 2016. (This event is sold out)

Palestinians are on the wrong track and will not get off it until the outside world demands better of them.
News comes every year or two of a campaign of violence spurred by Palestinian political and religious leaders spreading wild-eyed conspiracy theories (the favorite: Al-Aqsa mosque in Jerusalem is under threat). A spasm of unprovoked violence against Israelis then follows: rocket attacks from Gaza, car-rammings in Israel proper, stone-throwing in the West Bank, street stabbings in Jerusalem. Eventually the paroxysm peters out, only to start up again not too much later.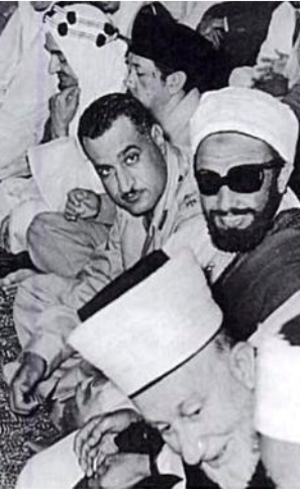 Amin al-Husseini remained at the heights of power for decades. He represented "Palestine" at the Bandung Conference in April 1955, praying (bottom) along with the future King Faisal of Saudi Arabia (top, in head covering), President Gamal Abdul Nasser of Egypt (middle, facing camera), and Imam Ahmad of Yemen (sunglasses).
True, these bouts of violence bring some gains to the Palestinians; in the United Nations, in faculty lounges, and on the streets of Western cities they win support against Israel. Each round ends, however, with the Palestinians in a worse place in terms of dead and wounded, buildings destroyed and an economy in tatters.
Further, their immoral and barbaric actions harden Israeli opinion, making the prospect of concessions and compromise that much less likely. The cheery Israeli hopes of two decades ago for a "partner for peace" and a "New Middle East" long ago gave way to a despair of finding acceptance. As a result, security fences are going up all over, even in Jerusalem, to protect Israelis who increasingly believe that separation, not cooperation, is the way forward.
It may be exhilarating for Palestinians to watch UNESCO condemn Israel for this and that, as it just did, but its actions serve more as theater than as practical steps toward conflict resolution.
Whence comes this insistence on self-defeating tactics?
It dates back nearly a century, to the seminal years 1920-21. In April 1920, as a gesture to the Zionists, the British government created a region called "Palestine" designed to be the eventual "national home for the Jewish people"; then, in May 1921, it appointed Amin al-Husseini (1895-1974) as mufti of Jerusalem, a dreadful decision whose repercussions still reverberate today.
Husseini harbored a monstrous hostility toward Jews; as Klaus Gensicke puts it in his important 2007 study, The Mufti of Jerusalem and the Nazis, Husseini's "hatred of Jews knew no mercy and he always intervened with particular zeal whenever he feared that some of the Jews could escape annihilation." Toward this end, he initiated an uncompromising campaign of rejectionism – the intent to eliminate every vestige of Jewish presence in Palestine – and used any and all tactics toward this foul end.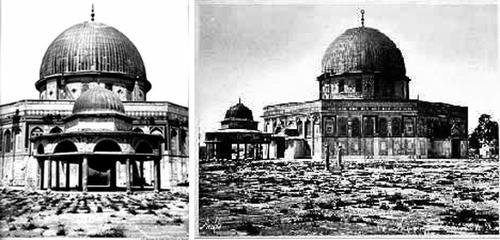 The Dome of the Rock pre-mufti, about 1875. Note the general abandonment and disrepair.